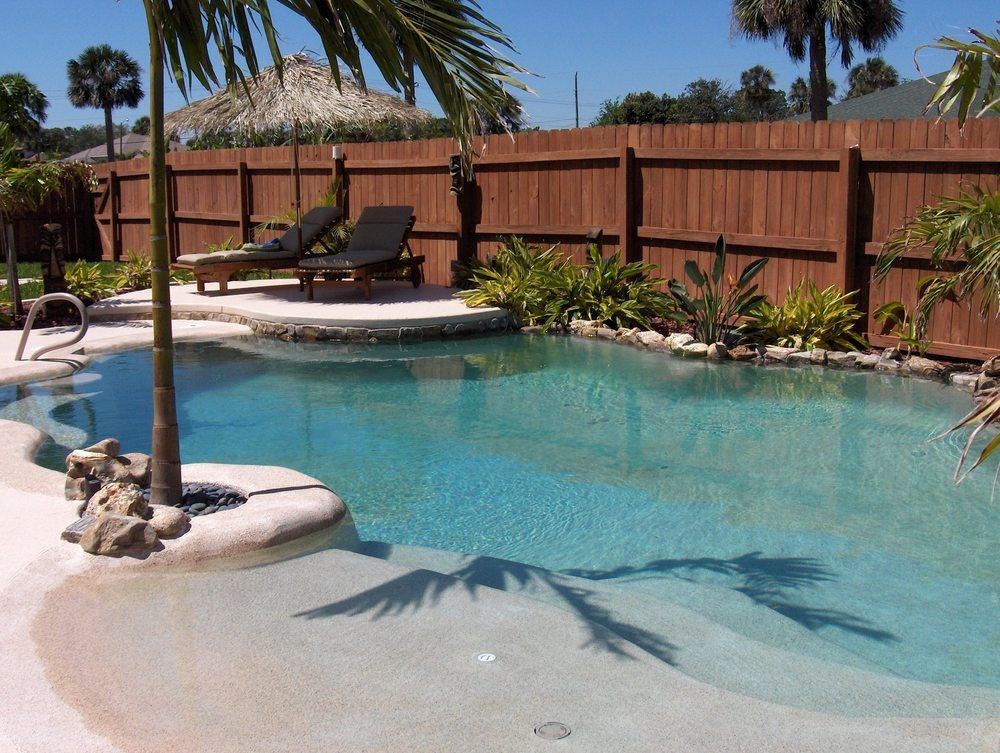 The sun is shining. The sweat is dripping. Relief from the heat is luckily offered by the cooling effect of last year's investment: the backyard pool.
As pool owner, you are in good company – 12 per cent of Australians own their own pool, according to Roy Morgan Research published in 2015. If you feel like revamping things a little, turning the swimming pool area into an oasis for the entire family, in consideration of safety requirements, is sure to add positive vibes and give that extra bit of security.
Royal Life Saving's safety checklist allows easy self-assessment.
Prioritising safety for your pool
Before diving into the plethora of creative options to add some flair to the swimming pool, you will want to check that your family is going to be safe.
Royal Life Saving has a home pool safety checklist that is helpful when ensuring pool safety. This list includes everything from swimming pool gates, fences and maintenance equipment, to the general space surrounding the pool. Did you know, for example, that the bottom rail of your swimming pool fence should ideally have a gap of no more than 100 millimetres from the ground? If this is exceeded, the safety of the area might not be up to date and need attention.
Self-assessment of the oasis' safety is made easy when following this checklist. If major changes need to be undertaken, or you are uncertain about something, a professional inspection is always an alternate option for extra peace of mind.
Being creative can be practical
Once you have ensured your pool is safe, you can start being creative on the design front. Consider the ambiance you are most relaxed in. Would you like your personal retreat to be a tropical jungle, Mediterranean getaway or African safari? There are countless possibilities to choose, which ultimately come down to personal preference.
Depending on your budget, you can draw inspiration from lifestyle magazines, social media or favourite holiday destinations. Small changes can make a big difference. In an interview with Architectural Digest, designer Jonathan Adler gave useful tips on how you can create your own luxurious resort at home.
Adler suggests considering which seating options can add an inviting touch to the craved ambiance. Plush couches, big lounging platforms or elegant chaise lounges; depending on your vision, well-placed seating can have a positive impact. You can also add personality and design touches by choosing pillows, umbrellas and towels according to the desired style.
If going for a Mediterranean feel, a low-laying couch situated under a white pergola with blue and white or fuchsia coloured accent pillows can hint towards ancient Rome. For a tropical jungle vibe on the other hand, chaise lounges and thatch umbrellas will look fantastic in the golden Aussie sun.
Adding plants can create further depth and resort-character to your backyard oasis by playing with colours, texture and heights of plants. From ornamental grasses, succulent and palm trees, to colourful bushes, you can mix-and-match the style of plants to add the right ambiance.
Taking the Mediterranean example, a combination of fig trees, lavender bushes and campsis will add colourful structure. For a tropical oasis, native frangipani, pink hibiscus and star jasmine are considered classic options. In addition, creating a green wall (essentially a vertical garden) will not only add a jungle feeling, but also improve air quality.
Extending your swimming season
With your home resort taking on a more central role, you might also consider options to extend the time you are able to actively use it. Investing in high-quality heating systems for your pool will not only add comfort to your experience, but has the potential to enable a year-round swimming season.
Utilising the latest technology in a qualitative and reliable way, Rheem offers various pool heating systems. From heat pumps and gas heaters to dehumidifiers, you can choose the ideal option tailored to your needs.
For more information and advice on the heating equipment best suited for you, get in touch with Rheem.