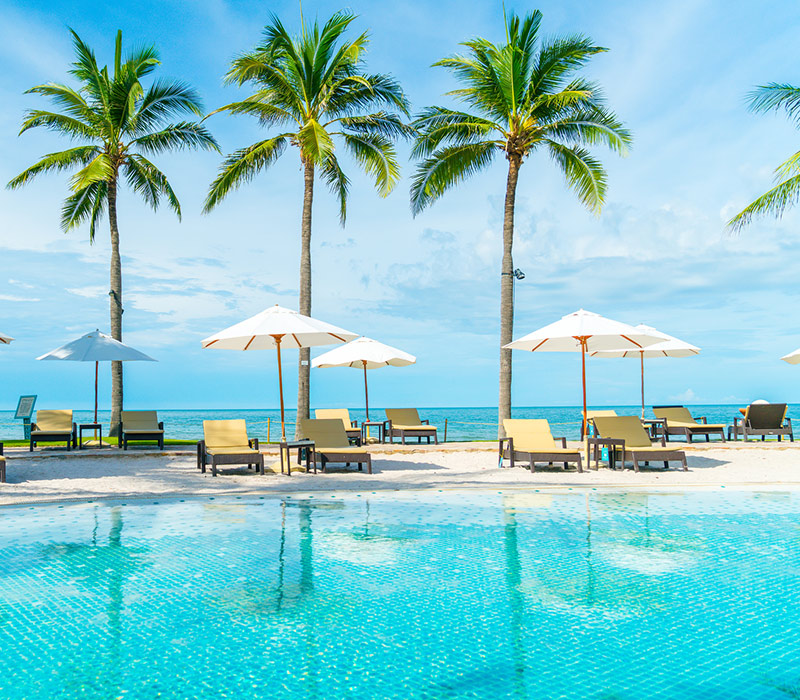 Request a Quote
Rheem Thermal Pool Chilling Systems
Many people will think that all a heat pump can do is provide heat. But, they're wrong – heat pumps can also be put to a number of different uses, providing heating, cooling or both for anyone who is looking for a really versatile solution.
With the Rheem Thermal heat pumps, pool owners can enjoy a full range of heating and cooling. Not only does this product come in a range of different settings to suit any application, it also offers an unparalleled level of cooling ability in even the hottest temperatures.
Why do people choose a pool chilling system?
In many parts of Australia, heating isn't a problem. Instead, people are going to be looking to stay cool when they look to go for a swim. While tropical locations are ideal holiday spots, finding the right temperature for a pool is incredibly important.
So, whether you are looking for a solution to a residential pool heating installation or for a larger pool for a hotel or public space, having the right chilling equipment is going to be essential.
That's why so many people choose the Accent heat pump in order to provide a versatile range of heating and cooling for their pool.
What are the advantages of a Rheem Thermal heat pump?
The Rheem Thermal heat pump offers a range of benefits for both large and small pool installations.
This unit is changed manually from heating and cooling, giving owners the power to control exactly when the pool is hot and when it is cool. When operated in cooling mode, the heat pump can maintain a steady temperature that is refreshing for anyone looking to take a quick dip.
While in a tropical location, a pool can be maintained at a steady temperature – around 28 degrees Celsius, for example – compared to the 34 degrees it could rise to if it wasn't directly cooled.
The Rheem Thermal heat pump also comes in a number of different models depending on the capacity required. Our pool chillers range in size from 10 kilowatts through to 66 kilowatts, depending on the size of the pool that needs cooling. If a larger size is required, we can also provide a unique solution to meet your needs.
Where are the Rheem Thermal heat pumps being put to use?
Rheem Thermal heat pumps have seen the greatest popularity in hotels and resorts, with many of our client's looking to provide a cool and refreshing experience for their guests.
Our chilling systems have already seen use in a number of different settings. As well as supplying cooling heat pump equipment to the Cable Beach Resort in Broome, we have also installed cooling heat pump equipment for the Bangkok Aquatic Centre.
Of course, it isn't just with commercial scale pools where our pool cooling systems have been installed. Many of our residential heat pumps are also installed with the capacity to cool a pool or spa as well as heat it.
Rheem Thermal cooling systems can also be used outside of recreational uses. For any company that requires an ongoing cool temperature, in manufacturing processes for example, these systems can provide a source of cooled water for any process companies need to undertake.
No matter what your pool cooling needs, from industrial applications to major resort pools and residential pool solutions, Rheem Thermal has the solution. With the depth of our expertise, across installations of every size, we have the skills to ensure you get a solution that is perfectly suited to your needs.