Pool Heating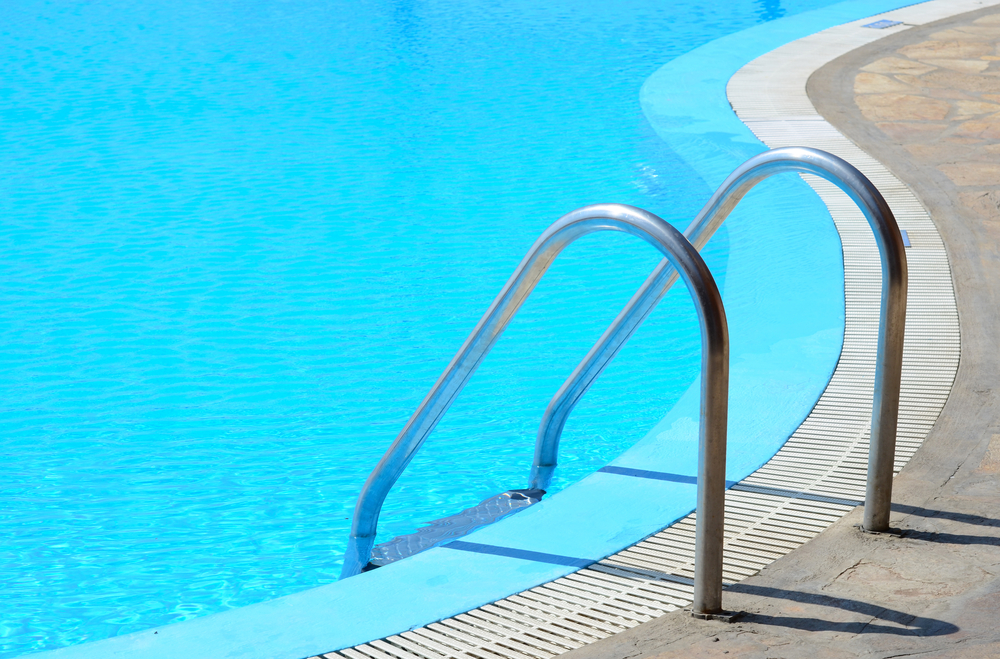 Request a Quote
Rheem is one of Australia's most recognised and respected brands. It is synonymous with hot water heating.
What is not so well known is that Rheem is also Australia's leading specialist in pool water heating, both for residential and commercial.
Residential pool heating
Picture this – you wake up in the morning and step outside to take a dip in your pool. The only problem? It's winter, and your pool is stuck at a bone-chilling temperature all day long. While the hardy few won't be put off by a freezing dip, most of us will head back inside for a cup of coffee instead.
Even with Australia's great climate, most people don't get enough use out of their swimming pool. An unheated pool might be usable for only four to six months of the year but, for a big chunk of the time, it is just left out in the cold.
So what's the answer?
For anyone who wants to get more use out of their pool, investing in a pool heating system from Rheem is the best choice. Whether you want your pool heated all year round, or just want to extend the number of months you can use your pool either side of summer, installing a swimming pool heater can give you that versatility.
Our range of residential pool heaters covers both gas and electric heat pump, with us manufacturing both heater types in Australia.
The Rheem Residential Pool & Spa Gas Heater Range
We have sold the Raypak gas pool and spa heater since 1969 and began local manufacture under licence from Raypak USA in 1983. Whilst we have sold thousands to the Australian market over the last 46 years, it is true to say that ten of thousands of these heaters are installed world-side.
Raypak heaters are the gas tradesperson's heater of choice because of their simplicity of design and reliability of operation. They are tolerant of a wide variation in water flow and gas pressures, which is problematic with most alternative heaters.
The Rheem Residential Pool & Spa Heat Pump Range
The Accent residential pool heat pump is the premium product in a market flooded with cheap imports. The Accent is unrivalled in terms of quality. The design is simply a scaled down version of the large Commercial Accent heat pumps which are specified into Australia's major projects, with the use of the identical commercial componentry.
The new Accent Premium SB Series is the latest generation of the Accent residential pool heat pump. It represents the culmination of 21 years development by Accent engineers in heat pump development and design. It is characterised by high performance at cold ambients. It is extremely quiet and the perfect larger capacity option for suburban backyards.
Accent's range in this market segment is complemented by the sale of units manufactured by its sister company, Rheem USA.
The Rheem USA product is sold as Accent's Residential Series. The units are of the highest quality and work at efficiency levels well above the market standard, with COPs of a minimum 4.0 at 10degC ambient and up to 6.5 at 26.6degC.
The extraordinary high efficiency of the Rheem USA heat pump reflects that the range is built to a high efficiency design standard rather than to a cost target.
The Rheem units are designed to the Florida Minimum Energy Performance Standard of minimum COP of 4.0 at 10°C ambient. Given the brilliant heat transfer capability of this design, the efficiency peaks at warmer air temperatures, with COPs of between 6.0-6.5 at 26.6degC ambient.
Accent retains complete flexibility in manufacture to allow for a unique range of design options, including our exclusive Rheem IQ® control.
Commercial Pool Heating
Rheem is clearly the Australian market leader in the heating of major aquatic and commercial swimming pools.
Rheem heating sets are installed at large aquatic centre heating projects at Eaglehawk, Benalla, Oakleigh, Shepparton, Nhill (Victoria), Barraba, Batemans Bay, Bexley, Bomaderry, Broken Hill, Camden, Cessnock, Cobar, Coleambally, Condobolin, Cooma, Corrimal, Cowra, Dapto, Dorrigo, Enfield, Enmore, Fairfield, Forster, Galston, Granville, Griffith, Gulgong, Gunnedah, Guyra, Holsworthy, Inverell, Kandos, Kempsey, Leichhardt, Manly, Morisset, Mudgee, Mount Annan, Murwillumbah, Narooma, North Sydney, Port Macquarie, Randwick, Raymond Terrace, Revesby, Singleton, South Grafton, Springwood, Sussex Inlet, Victoria Park, Wallsend, Warringah, Woolgoolga, Yamba (NSW), Albany Creek, Charters Towers, Collinsville, Colmslie, Eumundi, Fortitude Valley, Gatton, Gordonvale, Gympie, Ithaca, Miami, Mt Gravatt, Nambour, Nerang, Newmarket, Noosa, Quilpie, Redcliffe, Runcorn, Warwick, Yeronga (Queensland), Woodside (SA), Bothwell, Campbelltown, Latrobe, Ulverstone (TAS), Bold Park, Donnybrook, Margaret River, Pinjarra, Rockingham (WA). Commercial installations have been made for major hotel groups such as Ramada, Intercontinental, Holiday Inn, Hyatt, Novotel and Rydges in Australia, as well as in Bali, Bangkok, Phuket, Jakarta and Kuala Lumpur.
Raypak Commercial Gas Pool Heaters
For commercial pool heating, our range includes the Premium Series pool (200MJ to 420MJ input) and spa heaters (127MJ and 167MJ) as well as our large Commercial Series B-Type heaters (539MJ to 4,224MJ input).
Our Raypak Premium heaters are suitable for small to medium commercial installations or situations where a more rugged heater is needed. These units feature:
Robust powder coated all metal construction
Cupronickel heat exchanger
All bronze headers
Stainless steel combustion support structure
Energy saving hot surface ignition
Suitability for indoor or outdoor installation
Three year commercial warranty
Rheem Commercial Pool Heat Pump Range
Our Rheem Accent Pool Heat Pumps have led the Australian market for over twenty years.
The standing of the Accent heat pump is evident with its use in internationally prestigious projects such as the current upgrades of the Gold Coast Aquatic Centre in preparation for the Commonwealth Games and the Taurmara Aquatic Centre (Port Moresby) in preparation for the Pacific Games and previous installation at the Bangkok Aquatic Centre for the Asian Games.
Our Accent heat pumps are manufactured by our Accent Air factory in Liverpool (Sydney).
Our commercial range extends from 35kW to 354kW nominal heating capacity.
Commercial Heat Pump Design
Accent has a very stable design team and the lessons of twenty years product design and application are strongly evident in the product which is proudly sold today.
Accent has achieved benchmark performance through dedicated product development. Accent is Australia's only heat pump manufacturer with a full psychrometric test laboratory, where we are able to develop heat pump designs in controlled conditions from -10 degrees Celsius to 60 degrees Celsius ambient. The laboratory enables Accent to continually strive for higher efficiencies and better performance.
The Accent Commercial heat pump is the best that we can build. The product features:
Purpose designed refrigeration system
Increased total evaporator area to maximise efficiency in cold climate locations
Specialised fan control to manage air flows at high ambient
Full commercial quality construction with marine grade aluminium case and Rheem Cote® anti-corrosion treatment of the evaporator
Digital Controls
Full upgradable to Rheem IQ® control including BMS connectivity
Copeland or Danfos scroll compressors
Coil Guard
Condensate drainage
Quality assured manufacture with certification to ISO 9001.
Rheem IQ® control
Accent's edge in product development is not only reflected in a heat pump specifically developed for climate extremes but also in their advanced control options. Accent units carry full compatibility for upgrade to Rheem IQ tariff intelligence, allowing the achievement of the lowest possible heating cost where the building or home is connected to the time-of-use electricity metering. This advanced control technology is exclusive to Rheem.
One of the key features of Rheem IQ is its ability to optimise the heat pump run-profile relative to electricity pricing and in turn, to achieve the lowest practicable heating cost. IQ understands the off peak, shoulder and peak structure of time-of-use electricity tariffs, with some Australian tariffs being pre-programmed to aid ease of use.
IQ's programming logic optimises off peak operation by slight movements of the pool temperature, so that the cheaply produced off peak heat contribution is effectively stored in the pool. Differing temperature parameters are available in each tariff period with the intention of peak operation is postponed or avoided to the maximum extent feasible, consistent with desired pool temperatures at different times of the day and weekend.
The potential for saving in heating costs is extended to the heat pump's recirculating pump. IQ has the potential to control power to the pool pump, so that the savings extend to the total heating system. The pool pump will operate only for those hours needed for heating and in line with the run profile determined by IQ to minimise heating costs.
The tariff intelligence of the IQ is only one of the features offered, with the functionality extending to outdoor fan control, circulating pump control, de-ice management, alarm logging and PCo connectivity. For example, the BMS interface capability of the unit will allow direct interrogation, status checking and performance data review.
Assessing your needs
Although we're the largest pool heating solutions provider in Australia, our staff don't work on the assumption that they know everything. Regardless of how small or large a project may be, our personnel use a five-step process to acquaint themselves with your system:
Discuss the ins and outs of your pool or spa heating needs.
Gather technical data regarding your ongoing requirements.
Apply predictive algorithms to determine how a specific heating system will perform.
Choose a heating solution that best accommodates your requirements.
Make custom adjustments to our application if necessary.
Sizing and modelling
Rheem's Pool Heating technicians will assist you in developing energy-efficient heating systems, ensuring your water heating system retains optimal temperature with minimal power consumption.
To do so, our experts analyse the following data:
Pool size
Shading
Geographic location
Swimming season
Desired pool temperature
Wind exposure
Blanket use
Then, we apply this information to the University of New South Wales' Poolheat Model, which determines the amount of heat a pool will lose every hour. This provides us with the knowledge we need to adjust heating solutions to satisfy optimal energy efficiency requirements.
Do we keep our customers in the dark during this process? Absolutely not. We guide you through every step, detailing what the data means and why we recommend a certain option. This ensures you know the details associated with your system.
Access to experts
After contacting us to develop a heating solution, you've established a lifelong relationship with Rheem​ factory engineers, product specialists and pool technicians.
Our technicians and engineers are industry leaders and know our products back to front. Whether you are looking for a gas or a heat pump solution to your pool heating needs, we have the expertise and advice to provide the right product for your needs.
Of course, you don't have to go all the way back to the factory to see the support we can offer. At Rheem, our sales staff are experts in the field, providing a wealth of knowledge and expertise to every client we work with. This front-line support has been crucial for building Rheem's reputation as a trusted supplier of pool heating equipment.
Ultimately, our primary focus is to ensure you get the best system for your needs. It's not about selling you the most expensive heating solution, but the most practical, high-quality one.
If you have any questions concerning our services or how we develop custom pool heating applications, give us a call on 1300 132 950 or shoot an email to info@rheempoolheating.com.au.
WHERE TO BUY – Find your local Rheem stockist