Preamble
Sizzler is one of Australia's most well known restaurant chains catering for eat-in family dining. The restaurants are operated by Jardine in Victoria, NSW, South Australia and Tasmania.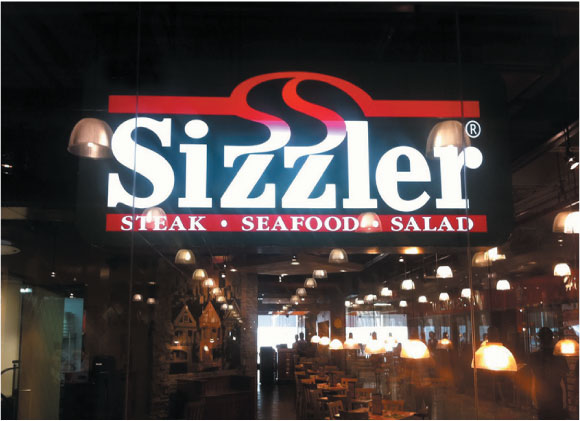 Sizzler Hot Water Usage
Some 75% of water consumption is used by a Hobart Dishwasher, Model C 127. This dishwasher is typical of commercial dishwashers; continuous (tunnel) not batch. The dishwasher uses 628 litres/hour of rinse water at 20psa pressure (continuous use). The unit uses 140 litres to fill its sump (discharged twice daily). Monitoring of the dishwasher identified daily run times of between 6.6 hours (Monday) and 9.78 hours (Sunday). There is only one water inlet and rinse and wash operations are conducted at the same time. Consequently, all water supplied is raised to the rinse temperature of 82°C.
Other demand for domestic hot water is limited to toilets (minor load) and kitchen clean up and washdown.
The dishwasher can accept water either at 82°C for direct use, or water at 60°C by using in-built electric heaters (17kW) to ensure a rinse temperature of 82°C.
Average daily water usage varies between 6,500 litres to 7,500 litres with around 700 litres per hour maximum demand on Saturdays from 1 pm to 3pm and 5pm to 1Opm.
Sizzler Hot Water System
Prior to the upgrade of the hot water system, the restaurant had been served by two 260 litre gas driven water boilers.
Dissatisfaction with gas was that 70 to 80°C was not being maintained during peak loads, with hot water temperature dropping to as low as 40°C. A water temperature of 40°C meant that adequate rinse temperature was not consistently achieved by the dishwasher.
The hot water system was modified (increased hot water storage) and converted to "all electric" through the use of an Accent high efficiency electric heat pump and desuperheaters connected to an existing refrigerated cabinet. Detailed monitoring of the installation over seven months by the then State Electricity Commission of Victoria (prior to and following retrofitting) showed consistency of temperature after retrofitting of 58°C and temperatures up to 61°C. The running cost savings identified equate to some 33% of natural gas costs with potential to increase the saving to 42% by integration of the HeatWave and existing gas to reduce usage of the dishwasher electric elements in temperature boosting.
Accent Equipment Supplied
Equipment supply included a Accent Hot Water Model HW32, one 600 litre hot water storage tank and three heat recovery units and primary hot water circulating pump. Accent undertook system design and installation.
FOR FURTHER INFORMATION:
Rheem Pool Heating Advisory 1300 132 950
RECENT ARTICLES