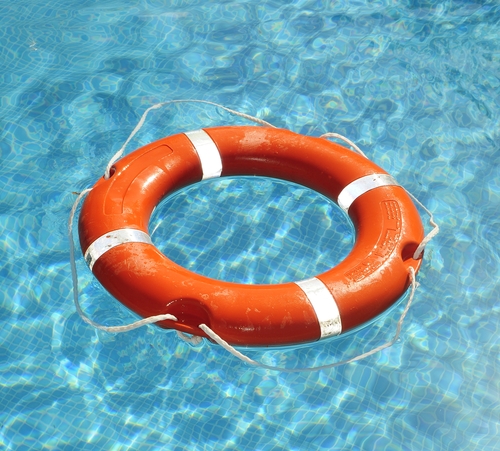 It is a subject you may not feel comfortable thinking about, yet it's important to consider how you could prevent your children from becoming part of the annual Australian drowning statistic.
According to Royal Life Saving's 2015 National Drowning Report, 13 per cent of all drownings in Australia were children under 14 years. The findings of the organisation's Child Drowning Report paint an even clearer picture, with 59 per cent of these fatalities linked to children being unsupervised and 8 per cent occurring at parties. Across the board, 70 per cent of drownings happened in the child's own backyard pool.
Whilst these statistics might seem shocking, there are things you can and should do to keep your children safe. Above all, it is important to remember that you want to enjoy your time at the pool together.
Always check the weight and age restrictions on aquatic toys before buying them.
Incorporating toys in the poolside fun
Having toys to play with in the pool is arguably one of the easiest ways to make family time in the water exciting. There are, however, things to consider before purchasing that oversized floating swan you saw online.
Always check the weight and age restrictions on toys. If your child is too old or heavy for a specific object, there is an increased risk of accidents and potential drowning. The Australian Competition and Consumer Commission report on safe toys for kids further emphasises that water toys are not designed as life-saving devices. This means you should always pay attention to suitability and safety for you child's individual ability, age and weight.
Once you have ensured the safety of the purchase itself, you should also consider how best to store the toy when it is not in use. Royal Life Saving suggests deflating all inflatable toys and checking them, including all other toys, for leaks before using them again. All objects should be stored away securely and out of children's reach so as to avoid unsupervised use.
Spending fun, quality family time together
A report by the Australian Department of Social Services found that relationships between parents and children improve from quality time spent together doing both specific and relaxed activities together. Family Relationships, an Australian government initiative, further stresses the importance of making time for each other to strengthen bonds within the family.
Leading from this, it could make sense to combine the children's play time in the pool with quality family time, where you join in on the fun. This could not only increase the time spent together enjoying your backyard, but also help you keep your children safe. Always remember, though, children should be supervised by an adult in, on, and around the water to ensure they are as unlikely as possible to suffer an accident.
Ensuring you can entertain safely
Every so often, you might want to opt to invite adult friends to your home. To make sure you and your friends' children are able to play freely in the backyard while you entertain, you might pay special attention to your fence around the pool area.
While specific laws might vary between states, general requirements are that the fence is permanent, at least 1.2 metres high and non-climbable. Additionally, gates need to be inaccessible for small children, self-closing and swing outward. If you ensure the fence and gate are maintained in good condition, children will be able to play and have fun without the running danger of accidents in or around the pool.
Ultimately, what matters is that you and your family have fun enjoying your swimming pool while staying safe.