Hydronic Heating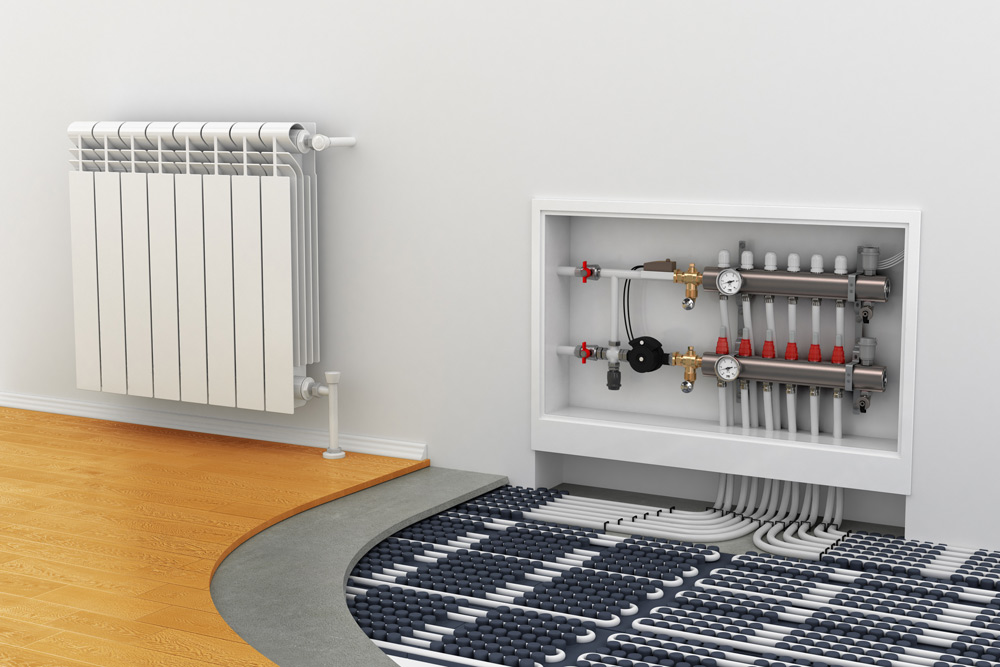 Request a Quote
Rheem Thermal Hydronic Heat Pumps
Hydronic heating is an ideal solution for many homes and businesses, providing a constant source of warmth that can truly make a space enjoyable to be in. Rheem Thermal has substantial expertise in the hydronic heating space, giving us the capabilities to truly meet your heating needs.
What is hydronic heating?
Hydronic heating refers to a system where warm water is pumped through a property as part of a heating system. This might involve a system of radiators, or will instead rely on under-floor heating to distribute this warmth throughout a property.
At the end of this system is a Rheem Thermal water heating unit, and our range can ensure that, no matter how large or small the premises you are looking to heat, you have a system that is ideally suited to your needs.
What are the benefits of hydronic heating?
Hydronic heating has a number of benefits that set it apart from alternatives you may be considering in your home or commercial space.
Among the core benefits of a hydronic heating system is that it can radiate heat evenly throughout a room, eliminating the possibility of cool spots. This is a common issue when heating is applied through a ventilation system, for example, which can struggle to distribute warmth to every corner of a space.
By connecting your hydronic heating system to a Rheem Thermal heat pump water heater, you can also be sure the system is going to run efficiently and meet your expectations of a heating system. Thanks to the sturdy design of our entire range, we can provide a high-quality solution to any water heating challenge.
Where can hydronic heating be used?
Among the most common uses for a hydronic heating system is in residential and commercial settings where a constant source of heating is required.
However, the applications don't end simply with keeping homes and offices at a pleasant temperature – hydronic heating is also ideally suited to a number of specialised applications, where a constant radiated heat is important.
Hydronic heating can be put to use in the greenhouses, providing heat to water circulated in pipe ideally located around the walls of the structure and/or between plant rows.
In agriculture, hydronic heating can be used where warmth is needed to protect and foster growth of young animals including for chicken sheds and piggeries.
Why choose Rheem Thermal for your hydronic heating system?
At Rheem Thermal, we are experts at providing energy efficient water heating systems, and hydronics are one of the sectors we specialise in. With a wealth of experience under our belt, you can be sure you are getting a water heating solution that is right for your needs and which meets your expectations.
While gas has been the primary source of hydronic heating for homes and industry over many years, this aspect is changing. The low water temperatures associated with concrete in-slab and radiant heating suits the heat pump and will see it operate at higher efficiencies.
Hydronic heating is typically popular in cold climate areas, where heat pump performance can be problematic when the air temperature is low. Our RTHW026 & RTHW031 units help to overcomes this with the units featuring an enlarged total evaporator area. The units achieves the Florida Minimum Energy Performance Standard of a co-efficient of performance of 4.0 at 10°C ambient with entering water at 27°C. The large evaporator sees greater heat capture when the outside air temperature is cold, but also lowers pressure on the movement of air across this broader surface, making the heater extremely quiet. As a low ambient/low noise unit, the RTHW026 & RTHW030 is the optimal choice for residential use in cold climate locations.
Our hydronic heating units are also available in ground-sourced and water-to-water design.
With a nationwide network of experts and support staff, we can provide advice and information that is tailored exactly to the different applications you are looking for. Regardless of whether you are looking for home, building or agricultural hydronic heating, we can advise on the best solution to meet these needs.
To find out more, contact us today to learn how Rheem Thermal can help with your next hydronic heating project.